This year's raffle bear is
"To Protect and To Love"
A Heroic Pair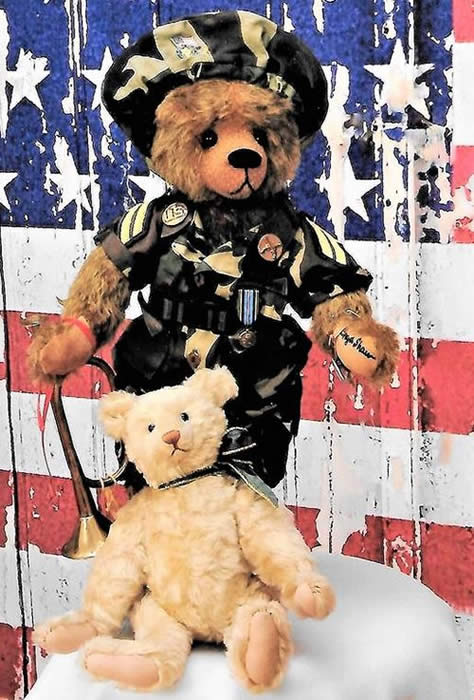 To Protect and To Love, this year's two amazing raffle bears, which honor our
heroic service men and women and the important part teddy bears play in spreading love to those whose hearts and lives they touch.
The handsome army bear by Sonya Shaw (Sunnie Bears) stands 20" tall, is made of brown mohair with leather paw pads and has German glass eyes. His uniform is authentic and so complete it includes army lapel pins on the collar, an armed forces expeditionary medal (first issued in 1958) and two stripes on each sleeve, indicating his rank as corporal.
The absolutely adorable To Love bear was created by Kathleen Wallace (d) (Steir Bears) stands 12" tall, is made of beige mohair, has felt paw pads and German glass eyes. To see this bear is definitely to love her! We are assuming she is a girl - she is sooo cute!
Both bears were donated by generous GBW members.
To purchase raffle tickets for this pair, use the Raffle Ticket Order Form below. As always proceeds from this fund raiser will go to our GBW Bear Bank. This is a great way to make a donation and have a chance to add these beautiful bears to your hug.
Thank you to everyone who supports GBW!
For just $1 donation this marvelous bear could be yours!

Please use this link to order your tickets.
OR
Multiple forms to print and mail - click here
The drawing is in November 2018